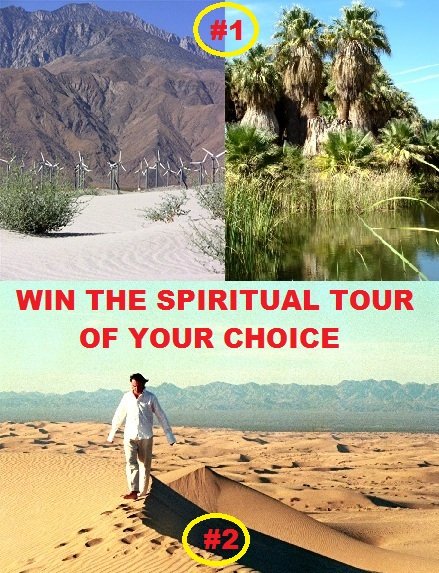 Participate before Dec. 21, 2012 to win the tour of your choice:


Tour 1: The Angel on the Mountain + The Healing Sacred Cathedral of Palm Trees
Tour 2: Feeling/Communicating with the Dolphin Energy in special sand dunes

Write a great review or several reviews on www.amazon.com
on any of my CDs, book and/or DVD.
Each review = One entry to the contest.
If you write 9 reviews (7 Cds. 1 book, 1 dvd) = 9 more chances.
Send me an email when it's done and tell me how many reviews you have done. One review = one entry to the drawing
to WIN the Free Spiritual Tour of Your Choice (#1 or #2)

Click here to participate

A drawing on Dec. 22 will select the winner, whom will choose the tour of his choice.


You win either Tour 1 or Tour 2. Tour starts and ends in Palm Springs, CA. I pick you up personally at the hotel you will be staying at, or at your friends home, or your own home if you live in the Palm Springs area. The tour does not include accommodations, flights.
See more info about Tours at: http://fredericdelarue.com/desert_tours.html